There is life after 50. Just ask Daryl. He took on Insanity, the most intense workout program ever put on DVD and lived to tell the tales. Now 20 pounds lighter and totally ripped, this 50 year old is an Insanity workout survivor! If he can do it so can you!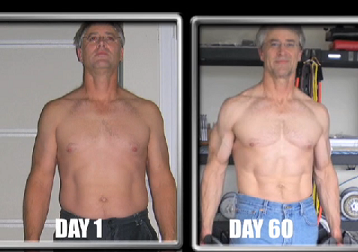 After completing P90X, this 50-year thought Insanity would be a break. Was he every wrong! Insanity was not a break, Insanity was the next level after P90X! It is the best and most intense workout that Daryl every did.
When beginning the Insanity workout, Daryl and his wife took a lot of breaks. Not anymore! Shaun T gives you the confidence to keep pushing through the workout.
At 50 years old, Insanity exceeded his expectations. He lost 20 pounds, 2 to 3 inches in the waist, muscle definition popped, and dropped lots of body fat. His endurance also increased.
After completing Insanity workout, Daryl feels like he can accomplish anything! If you stick with it, YOU can be like Daryl and get ripped, even at age 50!