Insanity is the 60-day workout program by Shaun T. that everyone is fired up about. You can get in the best shape of your life with this fitness program!
If you are not yet convinced that this is the workout program for you, check out these Insanity before and after pictures. Amazing body transformations and success stories.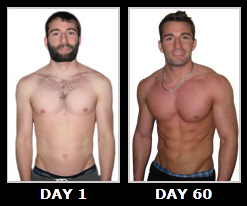 Ross M.
Sixty days of nothing but INSANITY was the most hard-core experience of my life. Shaun T. was a great motivator. Shaun T. would be yelling at the screen but I loved that, I needed that, because when you're in that final state where you're just pushing as hard as you can go on those push-ups, you need a coach yelling at you, telling you, "Come on, you can do it, you're in it!" I actually weighed about 125 pounds when I started INSANITY. By April, I had gained 15 pounds of lean muscle mass. I actually didn't lose weight, I actually gained lean muscle. Sixty days ago, I did not have this body. Now, after all these push-ups and calisthenics, I've got an armor-plated chest. Just 60 days of driving your body, max to the force, to the wall every day for 60 days is all it is. It's just 2 months. People don't realize how short of a time span that is.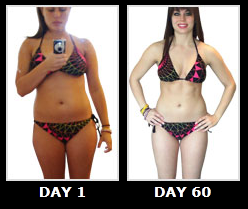 Olivia F.
My goals before starting the Insanity program were to definitely slim down, have a higher endurance, and to just to see an overall huge body transformation. I've tried several workout regimens but nothing has given me the results that I truly have desired. When I saw the infomercial for Insanity I thought this is it, I have to get this program. There's a variety of workouts using this program: Plyometrics, Cardio Abs, Cardio Power & Resistance. There's recovery workouts, pure cardio, each workout is equally as challenging in its own way and they are all awesome. Shaun is great! He pushes you hard, he is very encouraging. When you are about to give up, he says "you can do it" and that really gives you the extra push to just keep going. I've seen changes everywhere on my body. My hips and my legs are smaller. My waist is thinner. My abs are way more tone. It's fantastic.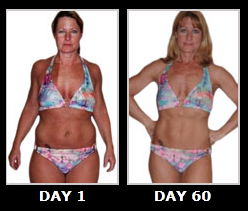 Teresa H.
It was a challenge for me at my age and I wanted to do it. I knew I could do it and I wanted to prove to myself that I could do it. I didn't want to feel 50. I don't want to feel 50. I wanted to be in the best shape that I could be in for where I am in my life. What they say in the infomercial about sweating and paying dues is absolutely true, and it's the most awesome feeling in the world. One of the reasons I chose INSANITY was because it was 60 days and I thought, "Well, see what you can do for me, Shaun T." I knew I was going to have to sweat and I was going to have to push myself to the limit. I'm gonna dig deeper, I'm gonna be committed and I delivered, I took care of it, I did everything I was supposed to do and I lost 24 pounds and 5% body fat, and it was the most amazing feeling to be laying on the floor in a pool of my own sweat, thinking, "I did it, I did it." It was awesome.
Buy Insanity 60-day Workout – FREE Fast and Furious workout!