When the Insanity workout was released in July 2009, it was said to be the hardest workout ever put on DVD! With Shaun T. pushing you past levels you never reached before, people got amazing fitness results with the 60-day workout.
What is Insanity?
With no equipment used in Insanity, you gain strength using your own body resistance. It's an intense cardio-based program that is grounded in MAX Interval Training. That's why you get such amazing results. With MAX training, you engage in long periods of maximum-intensity exercise followed by short periods of rest. By switching between anaerobic and aerobic intervals, you keep your body challenged all the time!
And talk about creating a calorie deficit! With Insanity you can burn up to 1,000 per hour. As long as you stay on track with your diet and calorie intake, you can expect to lose weight with this insane fitness program.
The Insanity challenge is amazing and will push to your breaking point. It's worth it! You will be pumped up and wanting more.
In a nutshell, Insanity will help you lose weight and improve your cardiovascular endurance and condition your body.
What is Asylum?
Move over Insanity because Insanity Asylum now tops the list for the hardest workout put on DVD! Intense, really hard, demanding and just plain crazy are some words that can easily describe this Shaun T. workout. With this 30-day workout , you will take your workout to a new level with sports progression drills that will keep you focused an engaged every step of the way.
Asylum leaves the cardiovascular endurance behind and focuses on balance, agility, power, strength and coordination. Insanity Asylum includes complex moves with weights and calisthenics. The Agility Ladder and Speed Rope are just 2 new ways for you to get fast on your feet . A pull-up bar is also used in the Asylum workout but Shaun offers alternative moves if you don't have one.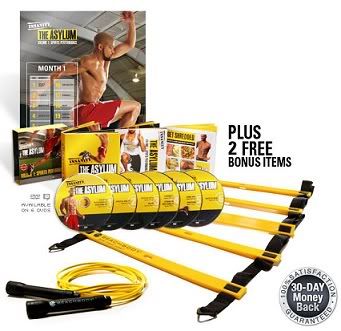 The big question is, should you complete Insanity before taking on Asylum? No. If you are up for the challenge of Insanity Asylum, go for it! If not, work your way up to it with another fitness program.